Archuleta School District 50 Jt. (ASD) has used the
Northwest Education Association
(NWEA) as a formative* assessment for the last 15 years. In an effort to measure student learning and teacher instructional practice, ASD administers NWEA during the fall and spring of each school year. At each grade level, teachers use the results to measure student progress and to inform classroom instruction.
ASD uses multiple academic, health, and social/emotional measures to assess student progress. Considering changing state assessment data, ASD has used NWEA to progress monitor student yearly achievement and to compare district students with their peers on a national level.
Normative Data - NWEA assesses millio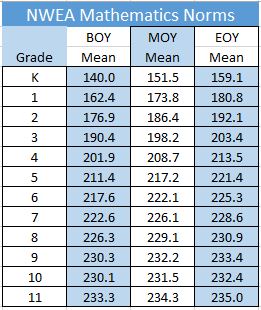 ns of students across the nation and as a result has provided districts with normative data. Normative data provides teachers, students, and parents an idea of how their child should be scoring, at each grade level, at the beginning, middle, and end of each school year (BOY-Beginning of Year, MOY - Middle of Year, EOY - End of Year).
Using the NWEA Reading Normative data (figure at the left), third grade students should score 188.0 on their beginning of the year NWEA assessment. Assuming normal growth, by the middle of the year, they should score 195.6 o
n their mid-year NWEA assessment. By the end of the year a "typical" third grader should score 198.6. While normative data is a good comparative measure, students grow at different rates throughout their primary and secondary schooling. Students may experience high growth one year and fall behind the next. Please note the declining scores between the EOY and BOY of the next year. This decline has been identified by educators as "summer slump." Engaged in summer activities, students academic growth tends to lag during periods of academic inactivity.
Following each assessment, parents and students frequently ask, "What does my score mean and h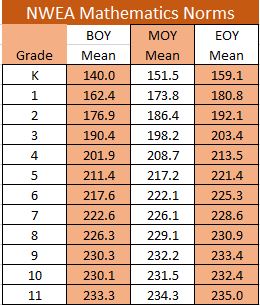 ow can I improve it?" Recognizing parents and students across the nation have asked the same question, NWEA with the Khan academy who developed mathematics intervention lessons linking students NWEA assessment scores to Khan Academy online lessons. They are listed here:
1. Find your student's RIT score for a sub category.
2. Click on the appropriate grade level for your child.
3. Scroll down to find the sub category and your student's comparable RIT score.
4. Click on a link to find Khan Academy material related to the sub category to practice.
*Formative Assessments are used to inform or improve student learning and teacher practice as opposed to summative assessments that simply measure student learning and teacher practice with little opportunity for improvement. Summative assessments are typically administered at the end of a term or school year.