Archuleta School District is very proud to announce that both Pagosa Springs Elementary and Pagosa Springs Middle Schools are recipients of the 2015 Healthy Schools Champion Award through the Colorado Education Initiative in recognition of the outstanding work done in the area of student health and wellness.
The Elementary School has implemented daily physical education and fitness; they are providing nutritious breakfast and lunch to students, using Advisory to emphasize social and emotional health and wellness and teaching safety and wellness through health classes at all grade levels. The school has also developed a positive school culture through their positive behavior supports and support through student led groups such as the Student Health and Wellness Committee.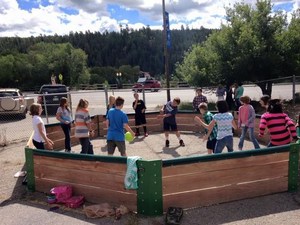 The Middle School is the
ONLY
recipient, statewide, of the Governor's Award which also comes with a $6,000 grant award. Their award is the result of the great work they are doing in many areas of health and wellness, nutrition services, physical education and activity, counselling and social services, a healthy and safe school environment and community, family and student involvement. Every middle school student in grades 5-8 participates in health education through The Great Body Shop and Five for Life curricula. All fifth grade students and most sixth through eighth graders participate in Physical Education. Additionally, through a partnership with Wolf Creek Ski Area, all students have the opportunity to participate in three days of skiing or snowboarding every winter. Health services and counseling and social services are provided through a collaborative effort with community health partners such as Pagosa Mountain Hospital, AXIS Behavior Health Services, Department of Human Services and many others. Through support from Live Well Colorado, students enjoy fresh fruits and vegetables and made from scratch cooking.
Both schools were recognized at the "7th Annual Summit and Luncheon: Seeing is Believing." Congratulations to all of the staff, students and families who support our district vision for educating the Whole Student.